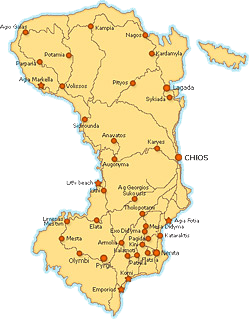 The Greek island of Chios is approximately 842 square km with a population of 50.000 people. The half of them lives in Chios-City. This Greek Island is situated in the east part of the Aegean sea, below the Lesbos island and above the Samos island. It is the fifth largest island in Greece. The Province of Chios consists of three separate islands: Chios, Inouses and Psara. The Chios country site is one with many faces, there are planes where the agriculture flourishes or planes with rocky surface.
Chios, also named Hios or Khios, is an island with a long history, that dates back until ancient times. Like many of the Greek islands, Chios has a turbulent history. It's long history resulted in well preserved Byzantine monasteries and medieval villages. The different influences of the island rulers such as the Turks, The Genoese, the Romans and Alexander the Great left ancient monuments and abandoned churches and monasteries. Due to it position in the Aegean sea it was the center of commercial activities during the middle ages.
Chios is known as the fragrant flower of the Aegean. From the first inhabitants from the Early Neolithic Era and Early Bronze Age to the tourist that arrive nowadays, Everybody who came to Chios has fallen in love with this Greek Island.
Maybe because of the Islands jasmine, wild tulips, the mastic tree and intoxicating fragrances. Or the medieval villages,
which still has thеir unique atmosphere.