Mavra Volia
GPS 38.184936, 26.028582

Emborios is a unique place of Chios and Greece in general. The port of Emborios, which is 5 kilometers from the central road of the southern villages, was a trading center in Antiquity which is designated by its name.
There was the settlement of Lefkonio (3,000 BC), traces of which were only recently found during excavations and are currently exhibited in the Archeological Museum of Chios.
The beach is a short distance from the port of Emborios and features deep, crystal blue waters and smoothly shaped black pebbles. These pebbles are the result of the lava that exploded and covered the area from the nearby volcano many, many years ago.
Lithi beach
GPS 38.34052, 25.993415

Lithi beach was used in the times of the romans as the main port of Chios island. Nowadays it is yet an another beautiful beach on Chios island. With its many taverns next to it having seafood as their specialty it is a great place to swim and eat.

Karfas
GPS 38.320843, 26.153553

A Greek vacation starts south of the town of Chios at the beach of Karfas. At Karfas can be found one of the most beautiful beaches of Chios island . The Karfas beach is approximately 400 m. long and about 30 m. wide. Besides the sunbathing and swimming Karfas has many other activities, like wind-surfing, sailing, water-ski and canoe. The sandy beach is shallow for a long distance into the sea. Which makes it perfect for family days at the beach.
The Karfas beach is awarded with a blue flag. To obtain the blue flag status a beach has to complete 27 different criteria. These criteria, amongst others, set (high) standards for the Water quality, safety and services. To read more on this topic go to blue flag.

Agia Dinami
GPS 38.212558, 25.912359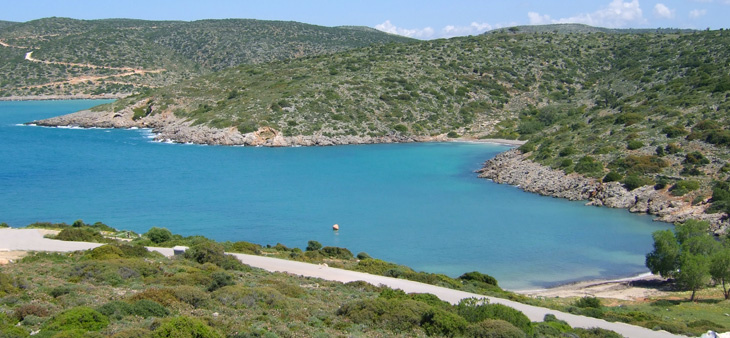 Apothika beach

GPS 38.241273, 25.888514

Didimes beach

GPS 38.293162, 25.938849

Agia Markella beach

GPS 38.480041, 25.885933

Elida beach

GPS 38.391001, 25.991074

Karida beach

GPS 38.194499, 25.95348

Komi beach

GPS 38.200856, 26.042397

Limnos beach

GPS 38.471533, 25.914676

Managros beach

GPS 38.463032, 25.938542

Mersinidi beach

GPS 38.444262, 26.143273

Nagos beach

GPS 38.561875, 26.082314

Salagona beach

GPS 38.221628, 25.915024

Tigani beach

GPS 38.403479, 25.967234

Vroulidia beach

GPS 38.157034, 26.008607